Welcome aboard the MS Island Sky, where luxury and adventure meet on the high seas. We are thrilled that you have chosen to join us for your upcoming voyage. As you step onto the 118-passenger all-suite vessel, you will be greeted by the unmistakable feeling of opulence, a hallmark of the finest small ships in the world.
What sets the MS Island Sky apart is its unusually spacious accommodations, public areas, and outside decks. Here, you can breathe in the fresh sea air while enjoying the breathtaking views. The atmosphere onboard is akin to that of a private yacht or country hotel, where you can unwind after a day of exploration with a little music in the lounge or bar. Our onboard team offers informative port briefings and captivating talks to enrich your journey.
After a day of adventuring ashore, return to the comfort and tranquility of the MS Island Sky. Our well-run and exceedingly comfortable ship will provide you with the perfect respite from your explorations. With a crew of 70 dedicated to your comfort and satisfaction, we strive to offer you the best possible experience during your time on board.
We hope that this information booklet has answered any questions you may have about the vessel, and we wish you a pleasant and unforgettable voyage. Get ready to set sail and embark on an adventure of a lifetime with us.

Deck 2
Porthole Suites (9 Cabins) - Hospital - Restaurant - Zodiac Boarding Platform

Deck 3
Window Suites (15 Cabins) - Triple Suites (2 Cabins) - Lounge - Reception
Promenade Deck
Deluxe Suites (2 Cabins) - Promenade Suites (13 Cabins) - The Club - Library

Veranda Deck
Veranda Suites (6 Cabins) - Outdoor Cafe - Sun deck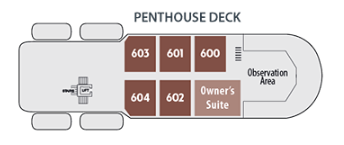 Penthouse Deck
Owner's Suite (1 Cabin) - Penthouse Suites (5 Cabins) - Observation Area
Previous
Next