The Ocean Diamond is a modern, stable super-yacht and one of the largest of our small expedition ships, carrying a maximum of 189 passengers. With two stabilizers and an ice-strengthened hull, this outstanding vessel is ideal for polar expeditions.
But the Ocean Diamond isn't just any ship – it's one of the fastest in Antarctica, making it an excellent option for those who want to maximize their time exploring this incredible region. And with its speed comes incredible comfort.
Inside, the Ocean Diamond boasts 101 elegantly designed cabins and suites, all with exterior views. The ship also features expansive common spaces, a club lounge, and a spacious restaurant that serves delicious meals and snacks.
But what really sets the Ocean Diamond apart are the adventure options it offers. Whether you're interested in kayaking, hiking, or wildlife spotting, there's something for everyone on board. You can even interact with photography instructors and hone your skills capturing incredible polar vistas.
Of course, after a full day of exploration, passengers need a place to relax and unwind. Luckily, the Ocean Diamond has that covered too. You can browse books or DVDs in the well-stocked polar library, enjoy a drink in the bar, or simply take in stunning polar scenery from the sun-lit, panoramic observation lounge.
If you're looking for an unforgettable polar expedition experience, look no further than the Ocean Diamond. With its modern amenities, comfortable accommodations, and exciting adventure options, this ship is sure to exceed your expectations and leave you with memories to last a lifetime.
Crew Deck
Clinic

Lower Deck
Triple Cabins (6 Cabins) - Single Porthole (15 Cabins) - Dining Room - Main Restaurant - Zodiak Embarkation

Main Deck
Twin Window Cabins (17 Cabins) - Suite (10 Cabins) - Polar Boutique - The Club - Reception - Secondary Restaurant - Bar

Upper Deck
Twin Obstructed View (10 Cabins) - Twin Window (9 Cabins) - Library - Auditorium - Main Lounge

Captain's Deck
Twin Obstructed View (8 Cabins) - Twin Window (12 Cabins) - Single Obstructed View (4 Cabins) - Gym - Bridge

Observation Deck
Balcony Suite (10 Cabins) - Observation Lounge - Fly Bridge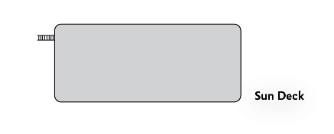 Sun Deck
Sun deck
Previous
Next